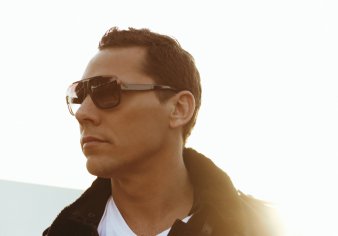 trance, electronic, dance
I'm a fan
Tijs Michiel Verwest is a Dutch born musician popularly known as Tiesto. He is popularly known as a DJ, musician and producer of a music genre referred to as electronic dance. Tiesto has used several aliases in the past with his most recent being DJ. Tiesto. He has however dropped the DJ tag to his name and his most recent works simply bear Tiesto. Tijs Michial Verwest is originally from Netherlands. He was born on the 17th of January 1969 in Breda, Noord-Brabant, Netherlands. Tiesto's love for music began quite early from about age 12. At age 14, he was already serving as a DJ in school parties and small gigs. By 1985 he was already a resident DJ and continued up until 1994, working at several Netherlands clubs. He began releasing music in 1994, when he released some material under Chemo and Coolman labels (subsidiaries of Noculan Records). At this time he mainly produced gabber and hardcore tracks under aliases like DJ Limited and DJ Joker. He kept busy releasing several materials along with various people under various labels. In 1997, he established Black Hole Recordings with his friend, Arny Bink. He met Dennis Waakop Reijers, a producer, composer, writer and arranger and they have been working together since then. He also worked with Ferry Corsten in 1999 and 2000 to release Gouryella. His first major claim to widespread fame was his 2000 remix of "Silence" that featured Sarah McLachlan. His first solo album came in 2001 and it was titled In My Memory. The album contained several great hits and music video that helped to springboard his career. The DJ Magazine has named him as the World's number 1 DJ 3 (2002 through 2004) consecutive times.
Read more
Tiësto tour dates 2017 United Kingdom
Tiësto does not currently have any concerts scheduled in United Kingdom in 2017. The last time Tiësto played a show in United Kingdom was 2013, in Glasgow. Overall, Tiësto have played a total of 22 gigs in the country. If you're ready for a road trip, Tiësto, currently has 3 gigs booked in cities like Eugene (United States), Pointe-Calumet (Canada).
Past Tiësto gigs
| | | | |
| --- | --- | --- | --- |
| 16 Sep 2017 | Wet Republic | Las Vegas | |
| 08 Sep 2017 | Berkley Riverfront Park | Kansas City | |
| 02 Sep 2017 | Randall's Island | New York | |
| 01 Sep 2017 | Exodus Festival | Las Vegas | |
| 26 Aug 2017 | Boucher Road Playing Fields | Belfast | |
| 13 Aug 2017 | Wet Republic | Las Vegas | |
| 05 Aug 2017 | Wet Republic | Las Vegas | |
| 05 Aug 2017 | Downsview Park | Toronto | |
| 05 Aug 2017 | Max Bell Theatre | Calgary | |
| 29 Jul 2017 | Wet Republic | Las Vegas | |
| 04 Jul 2017 | Governors Island | New York | |
| 02 Jul 2017 | Wet Republic | Las Vegas | |
| 24 Jun 2017 | Wet Republic | Las Vegas | |
| 23 Jun 2017 | Gorge Amphitheatre | George | |
| 17 Jun 2017 | Wet Republic | Las Vegas | |
More Tiësto past gigs
Tiësto's latest news
Tiësto latest news, rumours and lineup confirmations.
01 Jun 2015

America's TomorrowLand Sister Festival, TomorrowWorld, Confirms First Wave of Artists. Tickets on Sale.

Once again TomorrowWorld (the amazing festival that stemmed from its massive mother festival TomorrowLand in Belgium) will delight audiences with its magic in the beautiful forests of Chattahoochee Hills right outside Atlanta, Georgia.TomorrowWorld has just released the entire Phase 1 ...

05 Feb 2015

BIG-NAME Artists Added to Tomorrowland 2015 Including Tiesto, Carl Cox, Axwell Λ Ingrosso, Armin Van Buuren, More. Worldwide Tickets On Sale Saturday.

Tickets went on sale to residents of Belgium last Saturday, but this Saturday is the big one – the worldwide on sale! The allotted tickets to the Belgium on sale sold out, and this Saturday the entire festival will certainly do the same.Saturday at 17:00h Central European Time will se...

29 Jan 2015

Dates Confirmed for Electric Daisy Carnivals in New York and Las Vegas.

The dance party continues, as Insomniac have confirmed dates for the 2015 Electric Daisy Carnival in both New York and Las Vegas.The first of the two massive events to take place is the NYC edition, which will bring bouncing EDM beats to Metlife Stadium over Memorial Day Weekend – Sat...

27 Jan 2015

Tickets to Belgium''s Tomorrowland Electronic Music Festival Go On Sale to the World February 7th.

Another July, another massive Tomorrowland electronic music festival –- at least that has been the case over the last ten years, since the world-famous festival''s 2005 debut.Widely known as the largest and gathering of DJs, producers, and live electronic acts in the world, the aptly...
Comments
Reply sent!
There are no comments yet. Leave yours!