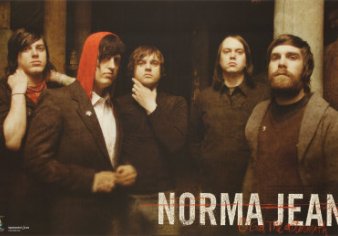 hardcore, metalcore, mathcore
I'm a fan
Norma Jean is based out of United States, and was formed in 2001. , who come together to play hardcore, metalcore, mathcore, christian, metal music. Norma Jean does not currently have any concerts scheduled in United Kingdom in 2015. If you're a Norma Jean fan, there are similar bands with concerts coming up like The Dillinger Escape Plan, Converge, Defeater. The last time Norma Jean played a show in United Kingdom was 2014, in London. Overall, Norma Jean have played a total of 20 gigs in the country. If you're ready for a road trip, Norma Jean, currently has 2 gigs booked in cities like Perth (Australia).
Norma Jean tour dates 2015 United Kingdom
Past Norma Jean gigs in United Kingdom
Norma Jean's latest news
Norma Jean latest news, rumours and lineup confirmations.
There're no Norma Jean news yet. Stay tuned to the Norma Jean rumors and confirmations.
Comments
Reply sent!
There are no comments yet. Leave yours!