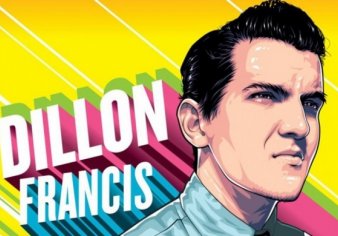 moombahton, dubstep, electro house
I'm a fan
Dillon Francis is one of the most widely recognized and critically acclaimed Electronic musicians of Moombahton which is the synthesis of Reggae music and house music. Born in 1987 in Los Angeles, California, Dillon Francis began his musical career in 2010. In three years Dillon Francis has signed with some of the most exciting record labels, such as Dim Mak Records, Fly Eye Records, Fool's Gold Records, Mad Decent and OWSLA. He has released 5 singles since 2011 and 7 extended players. In addition, since 2010 Dillon Francis has contributed over 25 remixes and compilation tracks worldwide. He is considered a leading contributor to the dub step and electronic house music movement. Some of his remixes include tracks by Chris Brown, Kito, Sinden, Dada Life, Kissy Sell Out and Vaski. Dillon became largely popular after collaborating with famed producer Diplo on a track entitled, "Que Que". In addition, a track he wrote called "Masta Blasta" was revised after being inspired by Dutch musician Munchi, and later became a classic Moombahton track. Dillon Francis continues to tour and record original music. He makes continual performances at music festivals around the world and has also continued his career in remixing music by other artists. He is one of the most sought after contributors to the genre of Moombahton which he helped revolutionize.
Read more
Dillon Francis tour dates 2014 United Kingdom
Sorry, there are no Dillon Francis tour dates available right now. Using the links below you can receive Dillon Francis email alerts when Dillon Francis tour dates are available or demand a Dillon Francis concert in your city
Other Dillon Francis concerts
Past Dillon Francis gigs in United Kingdom
Dillon Francis's latest news
Dillon Francis latest news, rumours and lineup confirmations.
There're no Dillon Francis news yet. Stay tuned to the Dillon Francis rumors and confirmations.
Comments
Reply sent!
There are no comments yet. Leave yours!